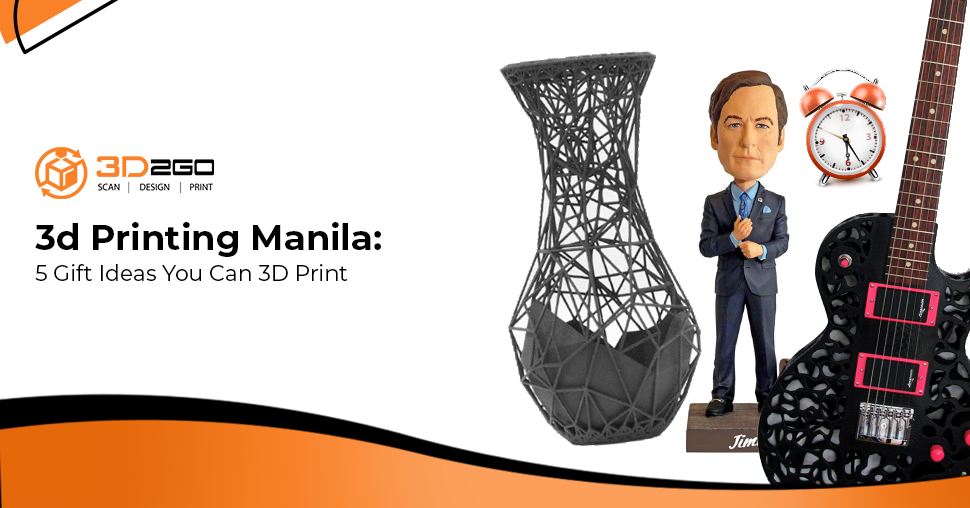 Giving gifts is quite challenging. Good thing 3D printing is available here in Manila. You can now make that idea come to life.
Gift-giving is something that should not be a chore. It should come from the heart. Because when you give presents you are also sharing a part of you. It can also be a way of saying that someone is special and loved.
Giving gifts means you are thinking about them. That is why the more unique the present is, the more value it gets.
But most of the time, we run out of gift ideas. It is quite troublesome. People usually spend a lot of time finding the perfect gift. Only to find out that it is not available anymore.
Luckily, we have 3D printing now. 3D printing is the making of three-dimensional solid objects from a design model. Think paper printing, but with width, height, and depth.
This high-end technology can make almost anything that you want. Whether a small or large item, 3D printing can print it.
To help you think of a unique present, we compiled five gift ideas you can 3D print:
3D Printed Acoustic Guitars
Is your loved one a musician? And does he or she ever dream of playing a famous signature guitar?
3D printing can help you make that dream guitar come true. 
We can help you design the guitar your loved ones will love. With our technology, we can make it look like a copy of someone else's guitar. 
If you prefer originality, you can always design your own instrument!
Hand it some personality, make it unique and different. In that way, you can make sure that you will stand out from the crowd.
And why stop there? You can complete the package and print your personalized guitar picks and case as well.
3D Figurines from Children Drawings
It is the perfect gift for couples who are new to parenting.
With our 3D printing technology, you can transform a drawing into figurines. Whether the sketch is a weird-looking animal or a cute family portrait, we can print it for you. 
There is nothing more wonderful than decorating your house with figurines made by your children. It is also the perfect gift for people with very artistic kids.
The item is aesthetically beautiful, plus it gives a child confidence to pursue his/her talents.
3D Printed Clock
With our devices always on our hands, clocks are becoming old-school appliances.
But it does not have to be.
Clocks are one of the most useful items in years. Everyone looks at the time either purposely and subconsciously. So why not twist it up and make it the most appealing household item?
3D printing can help you make and design a clock that you want. Just shoot us a message, and we will try to make it happen.
To add a little spin on it, why not give it to someone else? Surprise them with the gift of time that you designed yourself.
3D Printed Flower Vase
There are plenty of vase designs out there. But most of them all miss out on the point of why design a vase in the first place.
We design things not only to make them cool but to make them ours. Our design reflects who we are. And if our vase decorations are boring, then that means we are boring as well.
So if you plan to give someone a gift, make it a point that it represents who they are.
You can contact us to help you create a flower vase with your design. The vase is also the perfect gift to give with a colorful bouquet.
Bobbleheads
A Bobblehead is a figurine in which the head is generally over-sized compared to its body. 
This item will give you the chance to give your special someone a miniature version of himself/herself. You can customize the body, as well, to make him/her unique and cool.
A bobblehead is a perfect gift to show how much you value a person.
3D Printing Services Philippines Price
Honestly, 3D printing is not that cheap yet here in the Philippines. The technology and materials that companies used to make these items are expensive.
But if you have extra cash to spare, we recommend trying 3D printing your ideas. Although, these items can cost a little more than usual. But if we weigh-in function, durability, and design, it's a total win. 
If you are curious about our services, you can always reach out to us. In that way, we can help you know more about 3D technology and our services.
3D Printer Supplier the Philippines
3D2Go is the only one-stop-shop for everything 3D printing in the Philippines. We offer end-to-end full-service that guarantees a top-quality end product.
Not only that, we also supply 3D Printers if you want to print your own ideas as well.
Contact us now to know more!