3D printed dresses and shoes have already graced the catwalk and the headlines a few years ago. We cannot regard this as a future possibility for the fashion industry since a prototype has been successfully unveiled.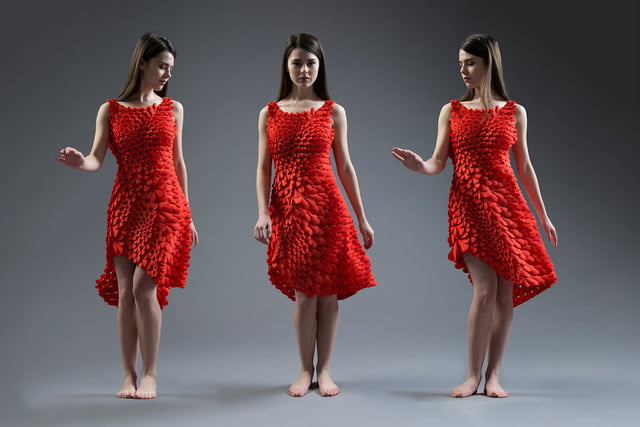 Now the question is, will fashion completely embrace the idea of 3D printing technology? Soon, in the nearest future, we will all find out.
Future Of 3D Printing And Fashion
When this happens, there will be a major makeover when it comes to manufacturing, retail, and distribution because of the emergence of 3D printing technology.  The industry's lighthouse customers or the early adopters have shown significant interest. This has led to their quick approval to use the technology and create products which are presently available to fashion enthusiasts and other consumers.
Dresses, ornaments, meshes, accessories, everything fashion related you name it, 3D printing has done it. Whether it is prototyped, have been worn for a fashion show, or is being sold in the market, additive manufacturing has a way to make it.
On the other hand, it is believed that soon, maybe a year or two that consumers will be able to print out clothing and stuff in the comfort of their homes. However, with the vast popularity of 3D printing today, we can assume that it will arrive earlier than expected. And one big factor that will totally attract both consumers and businesses to support 3D printing is the fact that is proven to be Eco-friendly.
Ecouturre, a fashion authority, claimed that 3D printed fabrics may be the future of sustainable textiles. Moreover, according to the fashion group, ultraviolet beams were used along with technology to combine layers of recyclable and powdered thermoplastic into a shape which almost produces zero waste. They further explained that the process localizes production. In short, fabrication time is reduced, less shipping and less labor.
Some Trivia on 3D printing and fashion collaborations from Inside FMM:
The first time 3D printed fashion debuted on the runway was at Amsterdam Fashion Week in 2010.
Iris van Herpen, a Dutch fashion designer introduced her SS11 collection "Crystallization" at Amsterdam International Fashion Week in July 2010. The collection featured a 3D printed piece, fashioned in partnership with MGX and architect Daniel Widrig.
3D Systems collaborated with designers Amelia Agosta and Natasha Fagg on a successful Melbourne Spring Fashion Week runway event in September 2011. The unique 3D printed "brassiere" was the highlight of the show.
Mary Huang, Continuum Fashion founder, and designer, initially saw a sample of a textile-like material produced using a 3D printing technology in September 2011. She was inspired and decided to design a clothing item that is printable. She also collaborated with Jenna Fizel, a 3D modeling expert, and they both came up with the world's first ready-to-wear piece of 100 percent 3D printed clothing, popularly known as the "N12 bikini."
The possibilities with 3D printing technology are by far endless. So what's next? 3D-printed land? We'll never know. We've got as far as 3D printed cells, skins, bridges, and houses. Not even the sky is the limit!
Contact us now for more 3D printing information. You may also send us an inquiry by filling out this form.