In a nutshell, visual arts are creations that can be seen. It is an umbrella term for a variety of art forms which include drawing, painting, sculpture, architecture, photography, film-making, and printmaking. It also covers decorative arts such as crafts, ceramics, jewelry making, metal crafting, and more. Just as varied are the reasons they are replicated.
Depending on the art form, replication can be done through casting, engraving, and etching, among others. These methods can further be subdivided into different processes.
Needless to say, replication has found a new ally in 3D printing. This one is definitely for keeps as the practice of 3D printing offers a ton of benefits over other methods of replication.  But why replicate them? Here, we compiled some good reasons.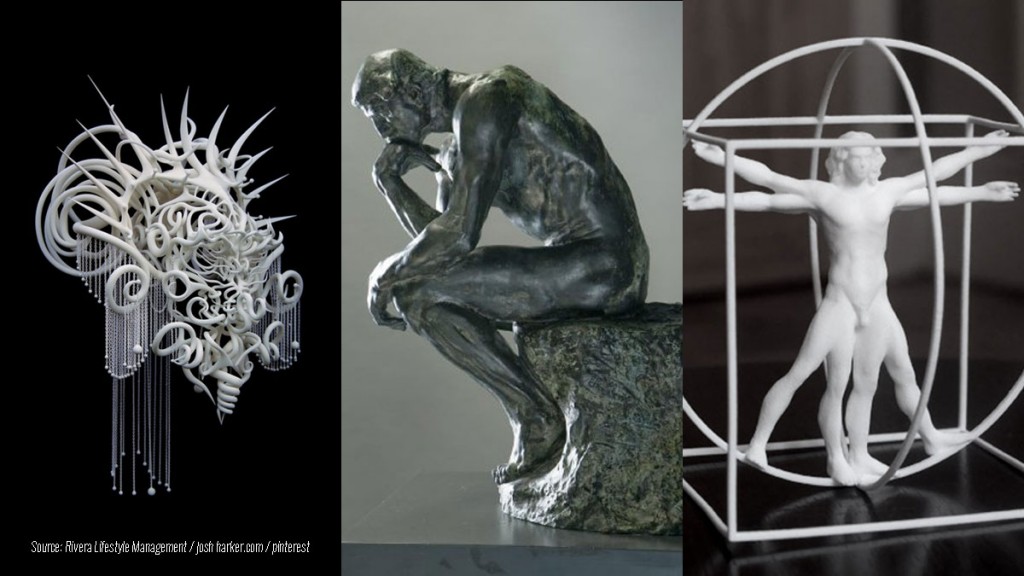 Educational – Not everybody has the time and money to visit France to see the Eiffel Tower or India to see the Taj Mahal. And even if you have, you may not be able to go on a whim or anytime the need arises. But with 3D printing, you can at least take a closer look at a miniature version of them. And for all you know, it might be all you need.
There are entire places designed for educational purposes. Many of them are especially made for children, but just the same, adults can learn from them. Apart from buildings and other architectural structures, visual arts replication for educational purposes is also great for sculptures and other pieces.
Restorative – If a structure is deteriorating and replication of certain parts is needed, 3D printing is the way to go. The work itself is more efficient and the entire task is less time consuming. That's granted that you use a state-of-the-art 3D printer, like the ones available at 3D2Go.
This practice has already been done in other countries, and we believe our own country is very much ready for this innovation.
Theatrical – 3D printing can be used to make replicas of structures to make a set for theater, film, or television. This is less costly than going to the specific country where the structure is located. Besides, you may have to deal with more taxes that will only add up to your production funds.
Hollywood does this. Not be outdone is Japan and just about every country where there are theater, film, and television productions.
Decorative – If you want a miniature Statue of Liberty in your home, by all means do it. You probably have seen renowned structures replicated in commercial establishments or every homes. Well, the best way to create a replica is through 3D printing.
Why is it the best, you ask. The answer is pretty simple: when it comes to creating replicas of visual arts, 3D printing is the faster, more economical method. Imagine not having to travel halfway across the globe and paying for taxes and other expenses that will surely cost you a fortune.  With a little creativity, the effect could well be the same.