Make Gifts Unique and Personal with a 3D Bobblehead
The Holidays are just around the corner, and most of us are already looking for unique and thoughtful gift ideas for our loved one
In a time of online shops where gifts can be easy and effortless, we are all going to online shopping as a way of bringing joy this holiday season.
While getting trinkets from online stores is convenient, it would be a much more thoughtful idea to give something personal – something that reminds them of what you share.
Bridge the gap and go the extra mile in spreading holiday cheer to family and friends by giving them a fun trinket to remind them that you're always there.
And what better way to keep them company by sending them 3D printed you to keep them company and make them smile? 
With 3D printing, you can create accurate personalized bobbleheads that's guaranteed to bring a smile or a few laughs to family and friends this holiday season. 
Make Your Own 3D Bobblehead
Now that remote work is a lot more common, desk space aesthetics is all the rage. We all want a nice workspace conducive to work, but also as fun and as unique as we and our tastes are.
Desk items are always a popular Christmas present, and because most of us often spend most of our day making a living, it would be nice to have a thoughtful reminder of family and friends by our side as we do. 
Liven up a friend's desk (or your own) with a funny, unique 3D printed bobblehead of yourself, of a friend, or of a favorite character – in funny, over-the-top concepts now made possible through 3D printing. 
Personalized Bobblehead Ideas
Bobbleheads have always made a fun Christmas gift, whether as a collectible or just a trinket for laughs. 
While it's easy to head over to your favorite retail store to grab an adorable (or sometimes, funny) figurine of your favorite basketball player or K Pop Bobblehead idol, it's a lot more thoughtful to custom make one for the ones you love, with some inside jokes and memories thrown in.
Here are some neat ideas for a 3D printed bobblehead that's guaranteed to crack a few chuckles after the Christmas wrappers are gone:
A Mini Bobblehead of You
Distance has never been easy when it comes to relationships. And now that the "new normal" is making travelling more complicated and less ideal, we are scrambling to find ways to stay close and connected to the ones we love from afar.
Bring a smile to a long-distance partner, relative or friend this Christmas season by giving them a mini version of you that they can keep close by. 
Brighten up their work desk by giving them a personalized bobblehead of you in a funny expression, or wearing an outfit they like, or in costume of a favorite character.
Let them know that you're always there to make them smile, even if it's just a small version of you at their desk.
Go on a Nostalgic Trip by Gifting a Bobblehead of a Friend
Sure, life has a way of pushing friends farther than they like. And in the hustle and bustle of work, family duties and other pursuits, we often have little time to meet for a drink or two.
This holiday, take your friend on a fun nostalgic trip by giving them a funny reminder of your friendship and all the good times you've shared. Custom-made bobbleheads of friends are always a funny addition to a desk or a shelf at home.
Bobbleheads of friends in school uniforms, team jerseys, and Marvel or Game of Thrones or other character costumes will always crack a few laughs even from miles away.
Tickle Fanboys and Fangirls with a Custom Character Bobblehead
The internet has opened so many possibilities in fandoms. 
From superhero franchises, to popular TV series, to K Pop crushes, the internet always creates more and more ways for fans to show their passion and dedication to their favorite content.
This Christmas, give them a reason to squee during coffee breaks by having a mini version of their favorite on their desk. 
Show your friend how much you appreciate them by giving them a bobblehead of their favorite superhero, their favorite K drama oppa or their favorite series character – a surefire way of showing them how you appreciate them by knowing just what they like and enjoy.
3D Printing Gifts
Now that 3D printing is more available than before, it's paved the way for more ideas and more designs to come to life.
While personalized gifts have always been a well-loved idea, 3D printing is taking customization further by making more unique designs and concepts possible.
While it's often challenging to capture someone's likeness into a bobblehead or any art, thanks to 3D printing and its accurate modelling, you can count on an accurate image of your loved one on your gift.
Technology is always upping the game in many ways. Let 3D printing make your special, personalized presents into reality.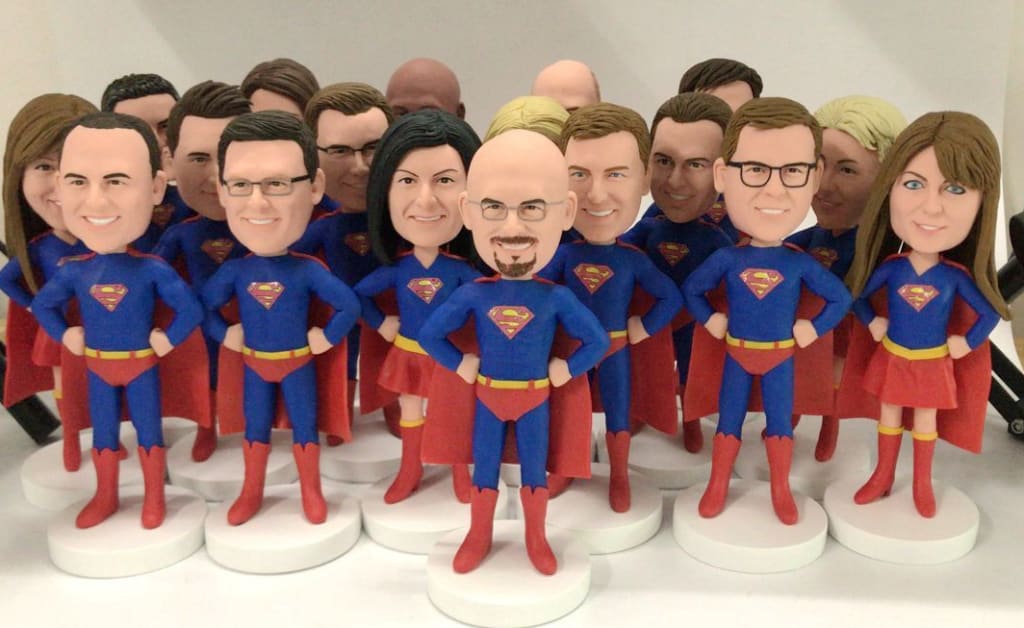 3D2GO Creates
High Quality Personalized Bobbleheads
For All Occasions, or Just Because.
3D2GO is a full-service 3D services provider. We offer a wide range of 3D services – design, modelling, reverse engineering and printing – catering to designers, entrepreneurs, students, hobbyists and thoughtful gift-givers – we can turn the wildest designs and concepts into high-quality products.
Go the extra mile and give your loved ones a one-of-a-kind gift that's designed especially for them. Find out more about what you can do with 3D printing and technology. Contact us here for more info.