Christmas is an essential part of the Filipino culture. December is not complete without the jingle bells, Santa Claus, and of course Belen. As a predominantly Catholic country, we enjoy these things. We also enjoy decorating our homes with Christmas balls, socks, and candy canes.
But with every year that passes, we need to think of another theme for our Christmas decorations. Of course, who would want the same old boring decorations on the Christmas tree or at your door and front lawn? We want creative and quirky or classy and simple for our home.
Here is the ultimate Christmas decorations list you need!
Bathroom decorations
When we think of Christmas decorations, we only think of decorating our living room, bedroom, and sometimes the kitchen. We rarely think of decorating our bathrooms. Why is that? The bathroom needs some Christmas vibes too. This is why we recommend doing it.
Santa Claus
When the kids (and many adults too) ask of what they think when the word Christmas is said, this guy usually comes first. I mean, who wouldn't love this gift-giving dude? We all know him from our childhood and the stories, movies, and fairytales about him. This is why he is included on our ultimate list! You need at least one Santa Claus décor in your house.
Reindeers
When Santa Claus is there, his reindeers will follow. Who doesn't know the song of Rudolph? The very famous red-nosed reindeer? Anyone? Of course, we do! Santa's entourage wouldn't be complete without him! Making simple but funny and quirky decors of reindeer would make your house a little merrier and more Christmas-y!
Outdoors
For people who have huge homes, the ones with front lawn, this part is for you! Decorating for outdoors is such a huge task. People usually put huge Christmas trees, Christmas lights, or Santa with his sleigh and fake gifts. But that is so commonly used and done already.
Why not include your post and windows in the decorations? Just like what these people did.
If you have a garden too, you can put Christmas decors in it!
As Christmas is after Halloween, some people may be too lazy to remove the skeletons outside their homes, well; we have a solution for that too! Just put Santa costume and hats on them.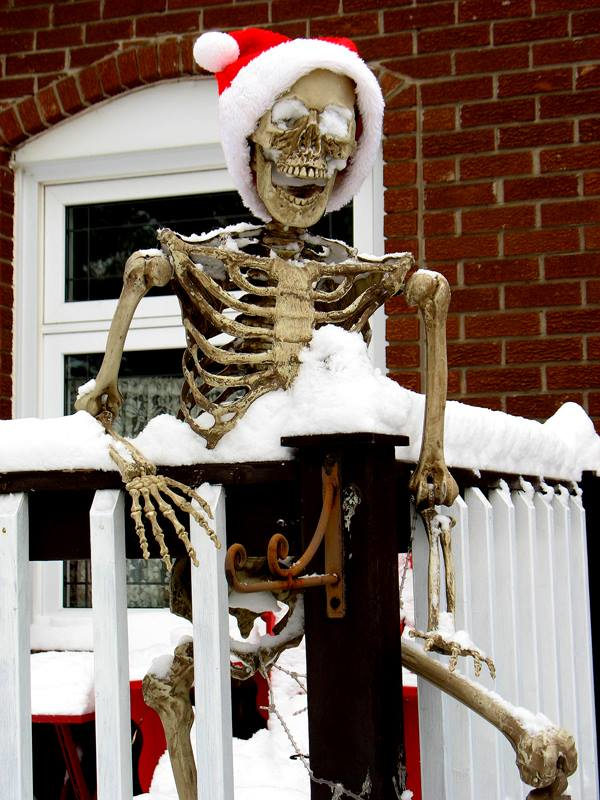 Christmas tree balls
There are tons of Christmas balls design that you can see not only on the internet but also in shopping malls, the Divisoria, and Quiapo. Many of them are really pretty and elegant looking. But if you really want to stay out of the norm this year, we recommend you to 3D print your Christmas tree decorations!
Not only you can customize and design your own balls nut you probably will have your one and only Christmas balls. You are the only person that will have that design.
Whatever you decided to do that is in this list, it will definitely make your Christmas a merrier one. However, we have to remember that it is not about the decorations!
If you want a unique and quirky Christmas decor, contact us now and we'll 3D print it for you!