3D2GO Philippines has announced last week, July 26, 2017, that they are now bringing your favorite DOTA 2 heroes and villains to life with the magic of 3D printing technology. Now, not only can you see them in action but you can have your favorite  DOTA 2 action figures collectibles on your desktop as you play your game.
Although the video game characters have invaded all possible media, 3D printing and toy customization gives them shape and form, enabling gamers all over the world to hold their favorite game character in hands.
So why would you want to have a 3D printed DOTA 2 action figures collectible? Well, aside from the inherent coolness of having your very own Nyx Assassin toy customization straight from from the digital realm, they are also a good investment for any smart collector.
Here are a few reasons why you should start to 3D print your favorite DOTA 2 Action Heroes and Villains with 3D2GO:
The customization possibilities are endless.
As a rule, it is highly customized depending on your preference. Or, if you are an artist, you can even paint it yourself according to your own creative imagination. You will also have the option to choose your own custom game modes, maps, and terrains in which to battle.  Thus, the physical recreation of famous game characters offers new possibilities to hobbyists.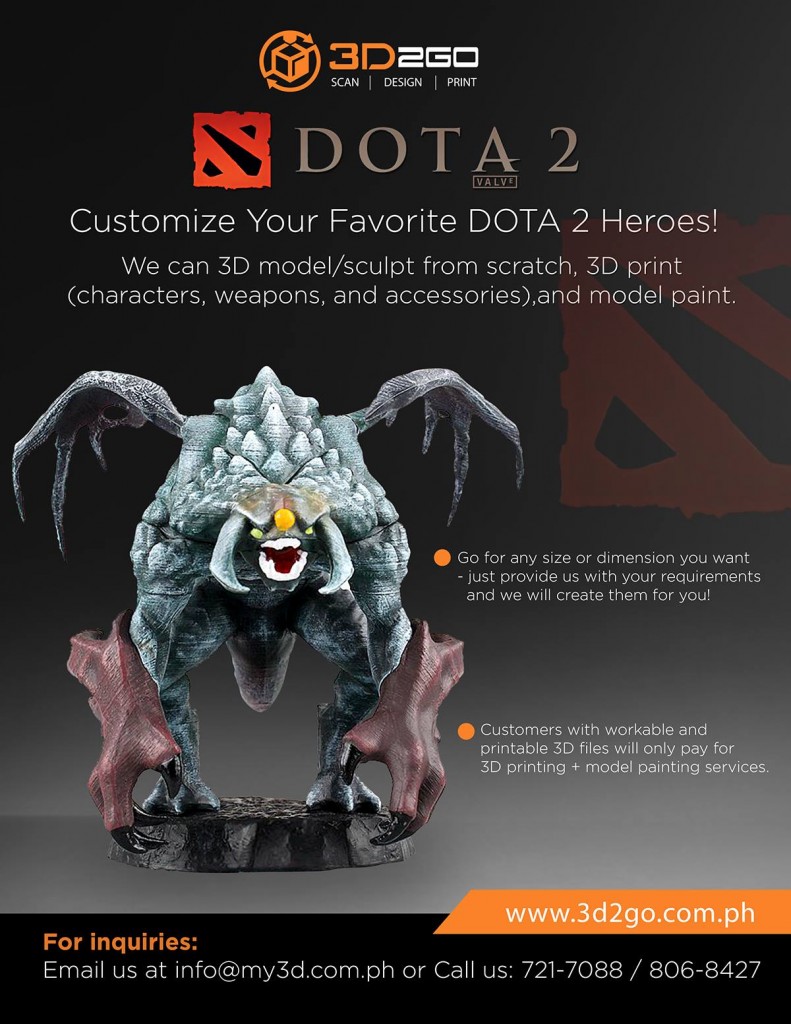 Thanks to 3D printing technology and advancements we now have in toy customization, you can have your own designed DOTA 2 action figures collectible created by request.
You can now have your favorite DOTA 2 action figures reimagined and recreated as a chess piece set. It's the perfect gift to give your gamer buddies or you can keep the set for you to play during those offline days or have it displayed as a one of a kind collectible.
3D printing your own DOTA 2 action figures collectibles can cost less than buying one at the store.
Now you don't need to spend an arm or leg, and sometimes both, getting a Faceless Void action figure. Here at 3D2GO, we offer the best quality products at the most reasonable prices.
Getting your DOTA 2 action figures 3D printed is now a fast and simple process.
So what are you waiting for? Give us a call and you can have your own DOTA 2 action figures collectibles now.