Weddings are a time in which you need to look your best. Want something more traditional-feeling? Fix yourself up with an up-do and minimal jewelry and maybe with a little sparkle. Want an edgier look? A hip hairstyle, crazy veil, or all the things at once can make even the most traditional ball gown more modern. Here are some fashionable 3D printed wedding accessories that you shouldn't go without.
1) 3D Printed Bridal Headpiece
Need a unique way to keep that veil without messing your hairdo? Why not have your headpiece 3D Printed to your favorite floral combination. This one is sure not to wilt or stain and will provide an interesting heirloom to provide your children in the future.
2) 3D Printed Hair Comb
A wearable comb with a floral vortex and triple wing design was very popular in Paris during the heart of the art nouveau movement. Originally decorated with pearls and painted to resemble feathers of colorful birds. With this comb, you can wear a piece of nostalgic Parisian fashion at all times to give that subtle hint with this retro piece made modern through 3D printing. A beautiful accent that could even be your something old and something new for weddings.
3) 3D Printed Wedding Ring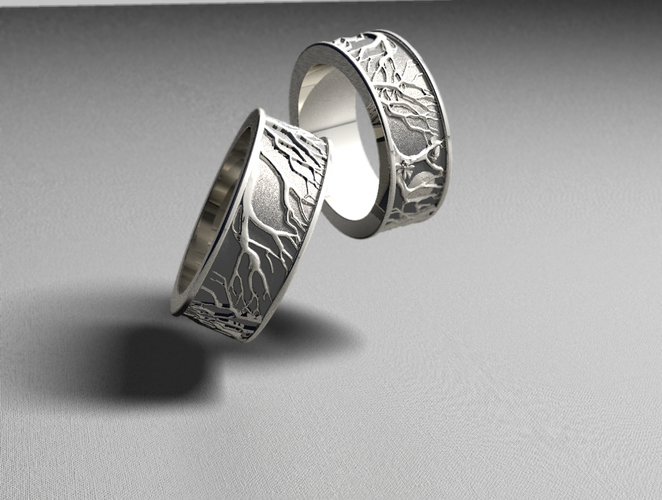 So you want to get married? Looking for something special and unique you just can't find no matter how many jewelry stores you've checked out? Then you should consider a set of 3D printed wedding rings for you and your future spouse. Wedding rings are the most important wedding accessories for the occasion. Celebrate that occasion with these unique 3D printed wedding accessories that represent "I do."
4) 3D Printed Wedding Dress
The fairytale wedding is not complete without the perfect dress. If you are dreaming of an enchanting springtime wedding, why not try the latest trend in bridal fashion with these awesome  3D printed wedding dresses. 3D Wedding dresses or bridal gowns with 3D appliqués are not necessarily new, but they are definitely a big hit. Three-dimensional blooming details breath fresh air into dress designs, and add a major visual impact. With romantic flowers popping off an array of silhouettes, these dainty embellishments are lively, delicate, and whimsical.
5)  3D Printed Shoes
Once you have the perfect dress for the occasion, you need to have the perfect shoes. Walk to the altar with this one of a kind shoes that is 3D Printed just for you.
Contact us now to have gorgeous wedding accessories for your wedding!