The first ever hand-held 3D scanner by Thor3D, the Drake 3D scanner is a wireless, portable, and the first ever to scan objects as small coin and as big as a yacht.
It also lets the user scan any type of object even if it is difficult to do so. It can scans objects like thin walls, sharp edges, human hair, and even shiny spaces, which might be difficult for other 3D scanners.
Different Set of Lenses
Drake 3D scanner has three interchangeable lenses.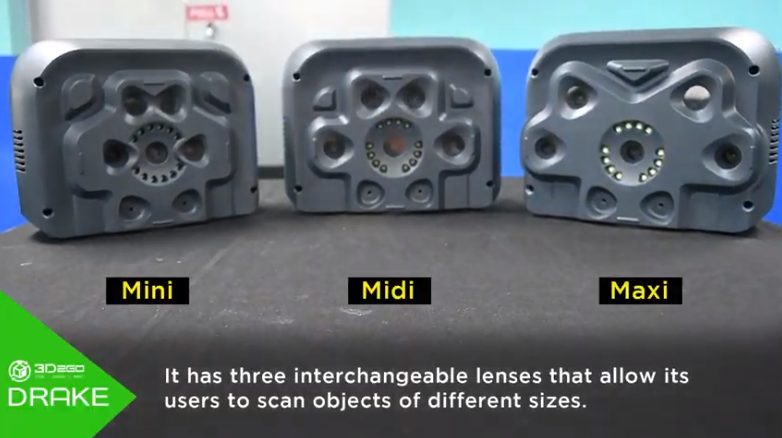 MINI – the first lens is the one responsible for scanning small objects like coins, keys, and jewelries. It scans with the highest accuracy and resolution. Its field and depth of view is the smallest among the three.
MIDI – the second lens is the one responsible for middle sized objects. It scans parts of the human body like the hair, face, and limbs. The MIDI lens can also scan car engines and appliance machines.
MAXI – the last lens is the one used for large items like cars, yacht and planes. Its field and depth of view is obviously the largest among the three. It gives off a full detailed scanned file of any large object it is tasked to do.
Perfect Portable 3D Scanner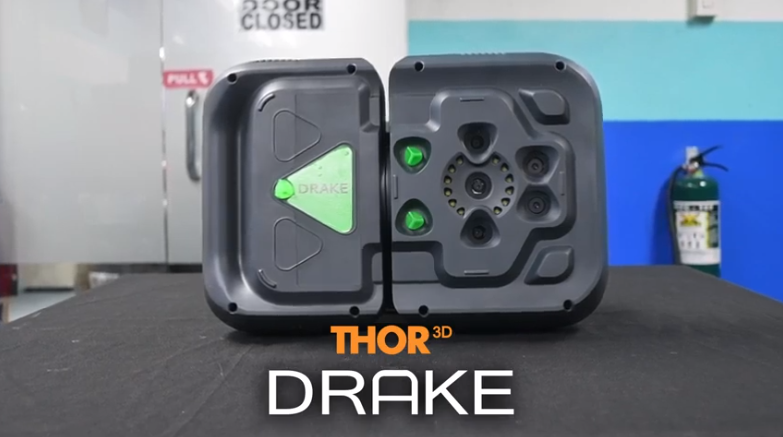 The Drake 3D scanner is as portable as any 3D scanner can get. It only weighs 2 kilos, has built in touch screen, and an on-board computer. You can carry it everywhere you go or anywhere your project leads you to. It also comes with a battery.
It is perfect for outdoor projects where you need to scan a heritage site, a car, plane, or even a train. Because of this, the user can easily digitize any item they want. Absence of outlets or electrical stuff that can be found in urban and residential areas will not be a problem.
Moreover, its battery life is approximately 1.5 hours (of non-stop scanning). Not only that but it comes with a complementary carrying bag.
Modes of Scanning
There are two modes of scanning when it comes to Drake 3D scanner: with markers and without markers.
When the user decides to use markers, accuracy will be prioritized. One example is when quality control is important like in industrial applications. Or if the item the user is scanning has unique geometric shapes like a pipe.
When they opted to not use the markers, there would still be accuracy but not like with markers. It is often used for creating miniature and or when defined details are unimportant.
Contact us now for inquiries!