Without question, Defense of the Ancients (DOTA) is a hit. It is an explosion heard within and beyond the cyberworld. This multiplayer online game continues to hold captive the gamers from all over the world. It has become so huge and has gained massive support from organizations and sponsors that paved the way to the staging of multi-million dollar tournaments.
Before DOTA, you probably couldn't imagine a team going home with around $10 million for a single tournament, let alone an online gaming tournament. But it has happened, and at the rate things are going, this popular online game is poised to get even bigger in the future. You get the feeling that it will reach another milestone of some sort any minute.
Let's Talk Objectives
Indeed, DOTA has become a phenomenon. If you haven't tried it yet, play it once and we won't be surprised if you get hooked. For some, it almost feels like a melodic song that gets you at the first few notes. For others, it may need a little time. But just the same, no active gamer will be spared.
DOTA encourages teamwork. The objective of the game is to destroy your rival's "Ancient," which is a guarded structure found at the corner of the map. Now our team at 3D2Go is here to make it larger than life. Call it our objective, but we are here to help make this online game more awesome than it already is, especially in our country.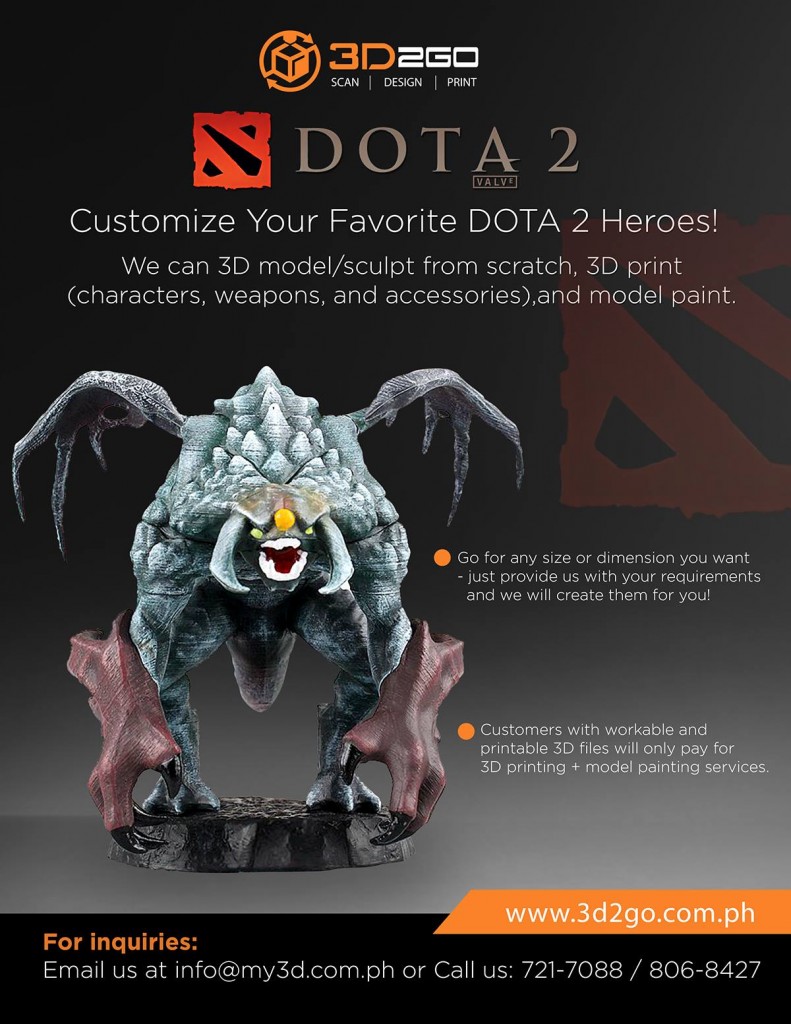 Make no mistake; we don't want any kid to be a complete slave to the game. What we want is for parents to understand our gaming culture enough to say, "Sure, go play your favorite game all you want…right after you study and finish all your homework."
On that note, we proudly say that we offer top-quality DOTA figurines created accurately down to the smallest detail. We understand how massive DOTA is, and in fact many of us are fans and players, too. That is why we know what gamers like, and the last thing we want is to disappoint anyone. For us, if we disappoint even just one person, we disappoint them all.
We make 3D-printed DOTA action heroes and weapons possible through 3D printing. Yes, what else but to use the highly efficient technology that has greatly shaken the toy industry. If you want your favorite DOTA character in physical form, turn to our experts. Apart from our years of experience in 3D technology, we also have extensive experience in online gaming.
No matter how intricate the action figure or weapon is, we surely can get it done.