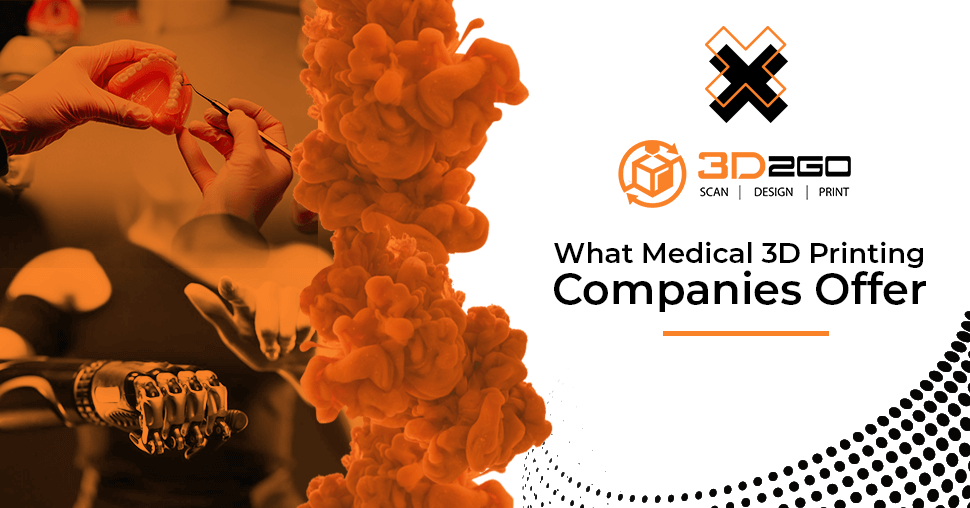 Where 3D2GO is at
3d printing in the medical industry
Approaches to how we solve medical problems are constantly evolving. New gear and gadgets are being invented to better our health and well-being. One of the most revolutionary change is the use of 3D printing in the medical field.
From prosthetics, medical, even those who are still in practice. All take advantage of 3D services.
Below the top 3 companies that have taken a step into 3D printing services
Nidek Technologies
Switched from using metal parts to 3D printed parts. 
They are using 3D printing to identify issues with the eye as well as improve the durability of their tools.
Gonioscope is a device designed to observe the space between the iris and cornea. It has started using 3D printed parts in its prototyping phase.
Nidek is able to optimize the process of helping optometrists care for patients.
Syqe Medical 
Created a prototype for a medical cannabis inhaler. After finding success with prototyping, they turned to 3D printing for clinical trials.
Medtronic
Started using 3D print services for:
What are the
3d printing medical uses
?
Medical applications for 3D printing has expanded the healthcare industry. 
The following are some of the medical applications:
Bioprinting
The idea of 3D printing a human organ no longer belongs to sci-fi. With bioprinting, we can live the fantasy turned reality.
Bioprinting, although considered as a 3D printing service, does not use the same machinery. Instead, it uses a special printer, the bioprinter. Unlike 3D printing, bioprinters print with cells and biomaterials, creating organ-like structures that let living cells multiply.
A common example that uses this is organ printing. It creates 3D tissue-like structures with different materials. It depends on the desired strength, porosity, and type of tissue.
Building of 3D Vascularized Organs
Complex 3D organs need precise multicellular structures with vascular network integration. 
Most organs are thick and complex. Such as kidney, liver, and heart. This can also be categorized under bioprinting. This method uses a customizable, printed silicone mold to house the printed tissue on a chip.
After this, it would supply cells with everything needed for maturation during perfusion.
Customized Implants and Prosthetics
Implants and prosthetics are being made through the help of x-ray, MRI, or CT scanning. These are being converted into digital .stl 3D print files.
Standard implants are often not enough for some patients. Surgeons had to perform bone surgeries. Sometimes even with the use of scalpels and drills to change implants. Surgeries take time because of this. With 3D printers, it is much easier to personalize an implant. No need to shave pieces of metal and plastic to the desired shape, size, and fit. 
3D printing has also had a transformative effect on simpler medical requirements.
One of it is for hearing aids. Another is the invisalign braces. Both are being produced according to the fitting requirements of the user.
Anatomical Models for Surgical Preparation
The human body is so complex. This is why having an existing model of a patient's anatomy is preferable. This is in comparison to just relying on MRI or CT scans.
With 3D models, doctors and surgeons may practice difficult surgeries before the actual thing. It is also an advantage of those training on cadavers. 
In summary, 3D-printed models can be useful beyond surgical planning.
Evolution of
3d printing and medicine
There are still some difficulties in 3D printing for medical purposes. But the advancement of 3D printing is changing the possibilities. The industry even expects a fully functioning printable heart in the coming years.
Medical advances using 3D printing are already significant and exciting. But the more revolutionary applications will need time to evolve and adjust. There would always be cases that still need studying. There could be more in store for a wider range of 3D service.
If you have more questions about our services, do not hesitate to contact us!