3D Printing in Fashion
Accessories in a Festive Holiday Theme
It's only a few weeks until Christmas and many of us are getting ready to be festive.
While we stay safely indoors in the current public health crisis, we can always find many ways to keep that Holiday spirit up.
Why not dress the part by donning fun Holiday-themed accessories made with 3D printing?
3D Printing in Fashion Accessories – More Designs, More Fun
3D printing is making its way to almost every area out there, for many good reasons.
With such an advanced technology, design has completely been transformed, allowing more never-before-seen concepts to come to life through 3D printing.
From industrial parts to clothing and jewelry, 3D printing continues to change the game by giving designers more room for creativity and innovation.
Fashion is one of the areas that benefit from the possibilities provided by 3D technology. Materializing more patterns and features in shapes and dimensions that weren't previously possible, fashion is now able to create not just beautiful but sustainable details and designs that's sure to create new trends as it goes.
That being said, more designs for accessories and appliques have been made possible by 3D printing for the fashion industry, especially for ideas and concepts that are tastefully over-the-top.
Geometrical earrings, chunky beads and intricate patterns are now more appreciated and beloved than ever, and 3D printing gives designers more leeway and comes up with brighter, more festive accessories in many different themes – in this case, Holiday-themed ones.
Creating Festive Fashion with 3D Printing
Due to recent events, the Holiday season has changed in so many ways, often with very little socialization allowed.
Christmas is all about family and good company, and while we're still reaching for that gradually at the moment, it shouldn't dampen our Christmas spirit.
Christmas parties may be online or socially-distanced, but there are so many ways to keep the Christmas spirit alive in limited social or online gatherings.
Since over-the-top fashion has been a big trend in the past few years, why not make things more festive with 3D printed accessories in the wackiest designs just as fun as the Holidays should be.
Undecided yet? Here are a few ideas to dress to impress in your Christmas (online) gatherings, or to just get your Holiday groove on.
Geometrical Ornament Earrings
What's a Filipino Christmas celebration without the timeless, effortlessly festive parol? Only this time, the trademark lantern isn't just adorning your windows, but your ears as well.
Unique earrings are always on trend, and this Holiday season, get all festive by donning on a pair of one-of-a-kind parol-themed earrings, but with a twist.
Ditch the usual traditional star and go for a more modern parol. Go geometrical with polygonal stars, or add a little kick by fusing a snowflake and a parol together in a unique design that's sure to knock your holiday look out of the park.
You can also go for other holiday-themed designs such as a geometrical bauble, snowflake, or jolly Christmas stockings in fun color. The more festive, the better!
Christmas Wreath Necklace
Think Christmas, but fashion.
Complete your holiday look with an elegant 3D printed wreath necklace.
While Christmas wreath necklaces seem like an awkward idea, jazz it up by 3D printing a geometrical wreath design that's just as fashionable as it is festive.
You can also design chunks of beads in different sizes to form a fashionable wreath that's festive enough for the season, but just as fashionable for many different looks – especially for themed Christmas parties.
Holiday Chunky Rings
Chunky rings are making a comeback in the fashion scene, so why not make one just as unique as your style?
Create one-of-a-kind chunky rings with a fun holiday theme – Christmas trees, snow men, stars, or any of your favorite Christmas icons.
Light-up Christmas Accessories
The most wonderful time of the year is also the brightest, and it should be!
Why not go all out for your Christmas festivities with light-up Christmas-themed accessories that's guaranteed to get a lot of awws and laughs from your friends and family?
3D printed accessories are made just the way you like it, and adding a small LED bulb can make everything magical and fun. Make fun, light-up earrings, bracelets and brooches with the magic of 3D printing and clever design.
Earrings, necklaces and other accessories can be made to light up at will or at command. With just a few tweaks to your design, let the fun begin!
Christmas Present Purse
Bags almost always complete the look, so why not spice up your Christmas party outfit with a fun little Holiday detail?
3D print your very own holiday-themed clutch that looks like a small present you tote around. Draw up a nice design for a shape that you like, add a bow detail and some sparkle and voila! A purse that's just as much of a gift to your outfit as it is to you.
Holiday-Themed Heels
Complete your festive outfit with a pair of Holiday-themed stilettos. Be the life of the party in your Holiday dinners by donning a pair of unique heels (or boots!) that are just as fun as your Holiday celebrations.
While it seems like a wild concept, shoes can now be 3D printed, given the right size and dimensions. Along with purses, bow ties, belts and jewelry, shoes can now be 3D printed in many different designs, made the way you like it.
Go crazy with your design. Christmas presents, stars, ornaments – whatever theme you like works!
Holiday-Themed Brooch
Amp up your office Christmas party by adding a small but fashionable trinket to complete your colleagues Christmas-party ready looks with a nice, cheery Christmas brooch.
You can 3D print brooches in the shape of Christmas trees, candy canes, snowflakes, or a unique Christmas rendition of the company logo that's a fun little addition to your guests' Christmas party outfits, and a fun party favor as well.
Liven Up Your Holiday Look with Festive Accessories
With so much going on in the world, some of us are quick to lose our Christmas spirit.
While the holidays are not the kind that we knew before, we should keep our hopes up and keep finding joy even in the simplest things available to us.
Don't let the stresses of life dampen your Christmas spirit. Liven up Christmas celebrations (online or social-distanced) by creating fun experiences that's sure to bring a smile or some laughter to everyone.
Get into the festive season with fun, festive and unique 3D printed fashion accessories that's guaranteed to spread cheer and crack a few smiles everywhere you go.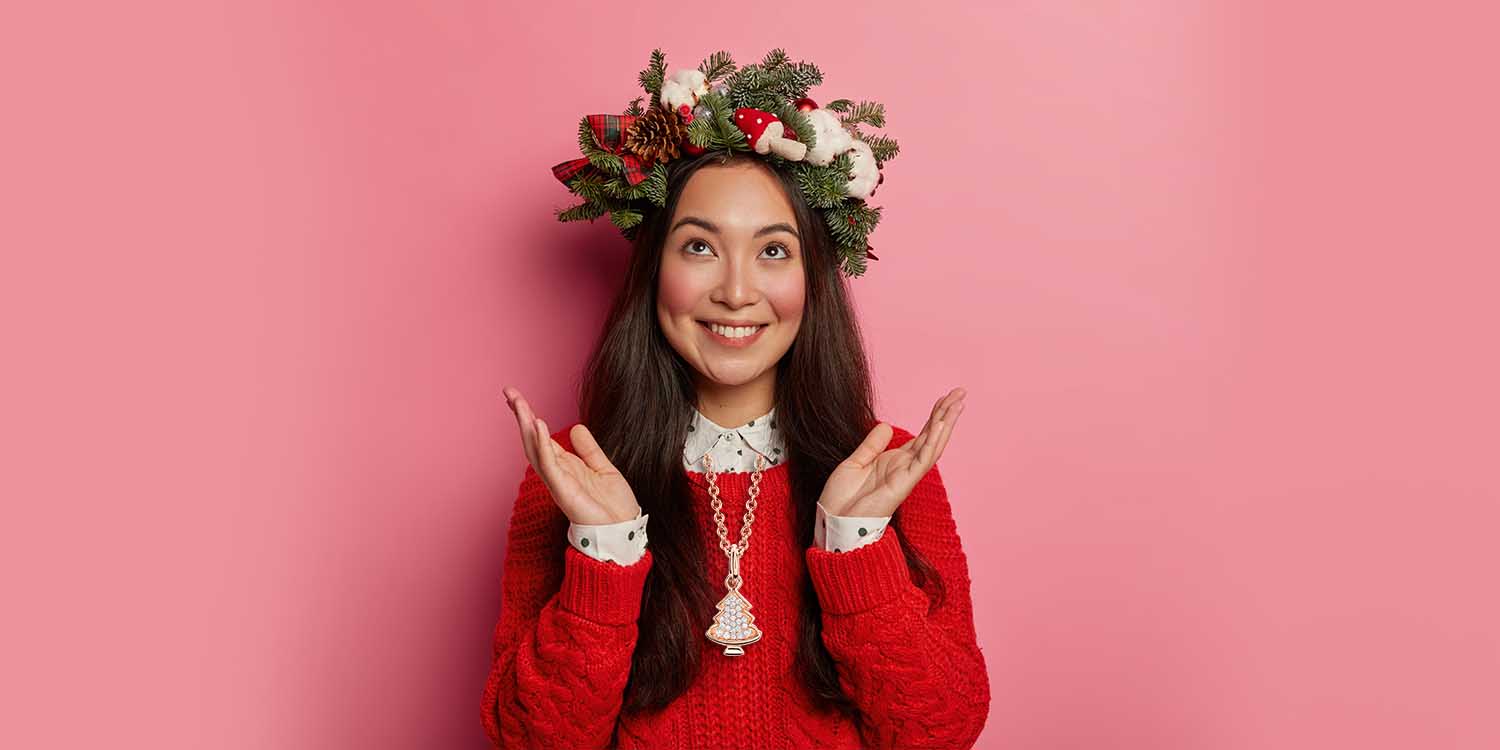 3D2GO is a
3D Printing Company
That Provides High Quality Printing for Fashion Accessories
'Tis the season to get creative!
Customize festive fashion accessories with 3D2GO.
3D2GO is one of the pioneers of 3D printing services in the Philippines. Providing high-quality 3D printing, 3D scanning, 3D modeling, we cater to designers, hobbyists and basically anyone with a flair for the creative.
Send in your design and watch how we make your ideas come to life. Drop us a line here and let's get creative!